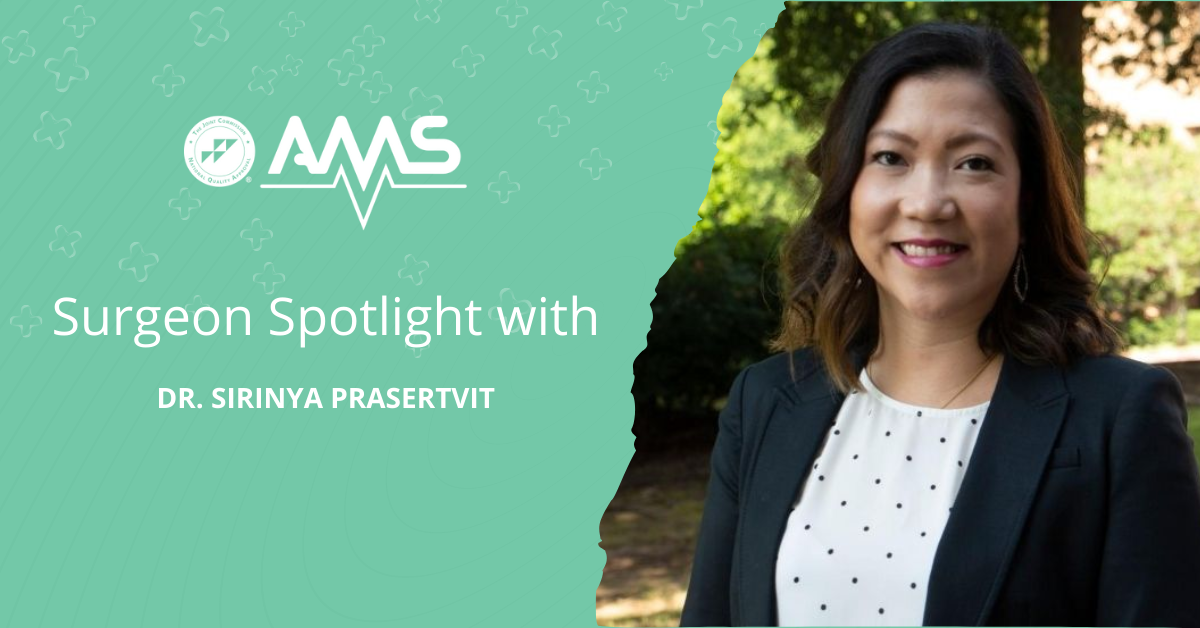 Sirinya Prasertvit, MD, FACS, is a board certified general surgeon who has years of expertise in general surgery, breast surgery, and endocrine surgery. Dr. Prasertvit currently serves the Central Arkansas communities providing quality and compassionate care to each of her patients.
While surgery itself always comes with risks, one of the many surgeries Dr. Prasertvit performs comes with an added risk to the nervous system. Thyroidectomy and Parathyroidectomy procedures expose a risk to the recurrent laryngeal nerve (RLN), a branch of the vagus nerve. The RLN innervates the majority of the intrinsic muscles of the larynx, as well as sensation to the larynx below the level of the vocal cords. Considering the nerve's pathway and coursing nature, the chance of an injury occurring is greatly increased due to the fact that an injury at any location on the nerve can cause vocal impairment.
When it comes to neck dissection procedures, Dr. Prasertvit firmly believes having intraoperative neuromonitoring (IONM) of the recurrent laryngeal nerve is the standard of quality patient care. IONM helps locate, detect, and identify this nerve in real time and continuously monitor it throughout the entire procedure to help avoid an injury.
Several patients experience hoarseness, trouble breathing, as well as vocal changes when they have an enlarged thyroid due to the compression in the neck, thus surgically removing it becomes an option in their treatment. When the thyroid has enlarged so much so that it grows beneath the sternum, the possibility for complications increase.
Recently, Dr. Prasertvit had a patient who presented with a large substernal thyroid goiter that needed to be removed surgically. Luckily for this patient, the only physical symptoms they were experiencing pre-operatively was a slight cough. The surgery was booked with a cardiovascular surgeon on standby due to the nature of the thyroid growing beneath the sternum into the chest cavity.
*Warning: Graphic Surgical Photos*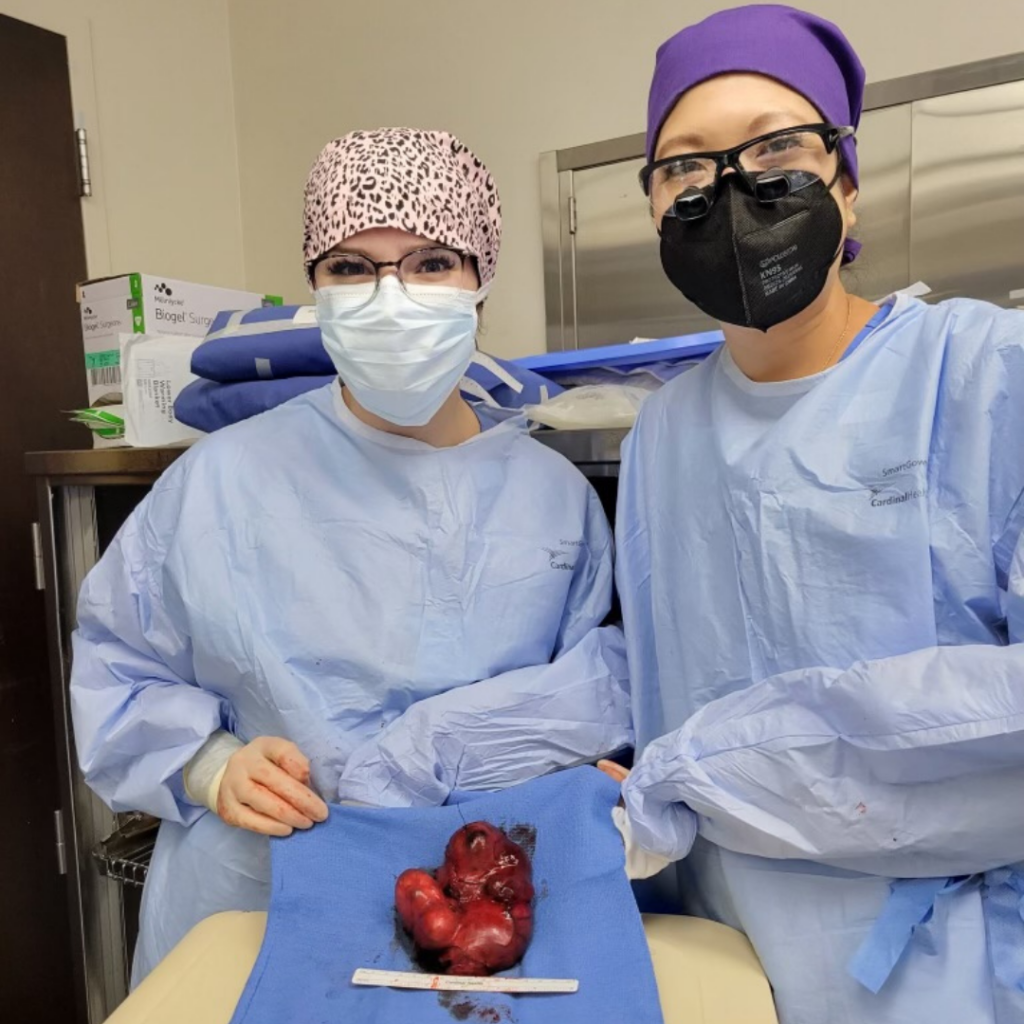 Pictured: Makayla Stratton, Surgical Technologist; Sirinya Prasertvit, MD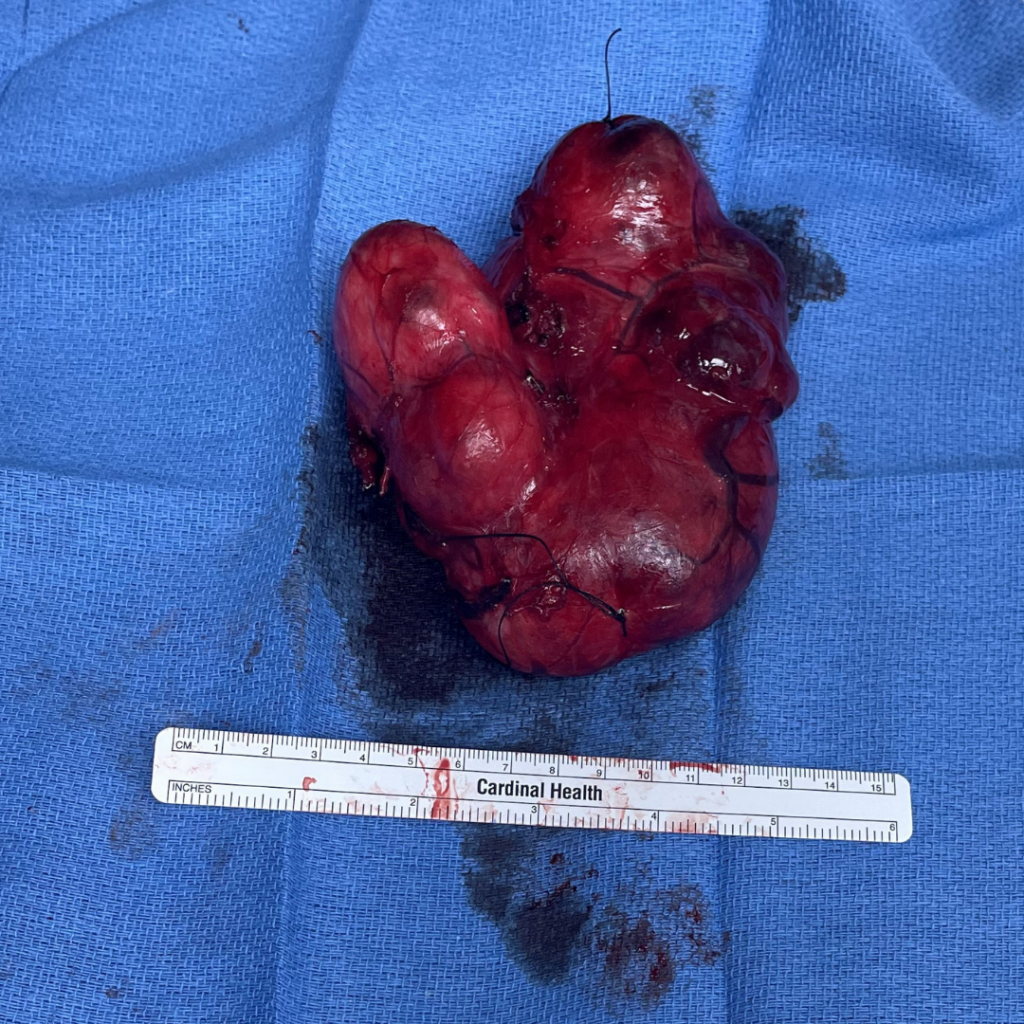 Substernal Thyroid Goiter excised from patient.
Dr. Prasertvit was able to successfully remove the goiter with no complications, no post operative deficits, and no adverse changes to intraoperative monitoring. Our surgical neurophysiologist on the case, Maria Vines, was able to evoke a response pre and post resection with direct nerve stimulation which indicates the recurrently laryngeal nerve was intact and functional.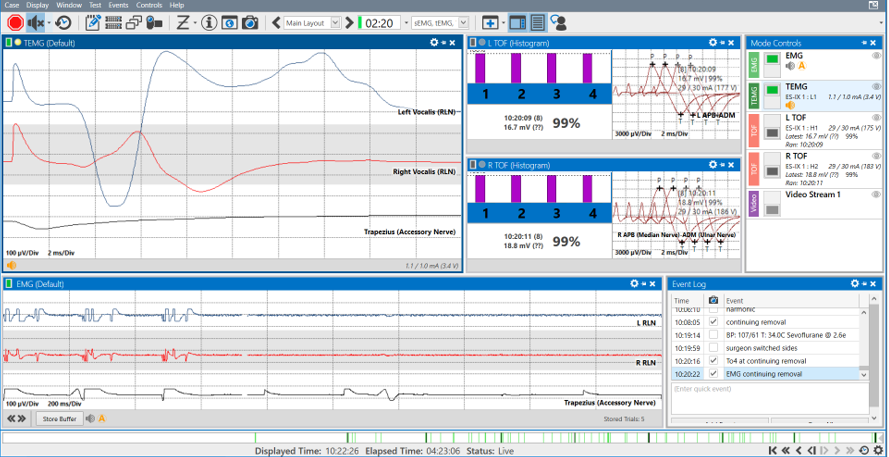 Direct Nerve Stimulation - Pre-Resection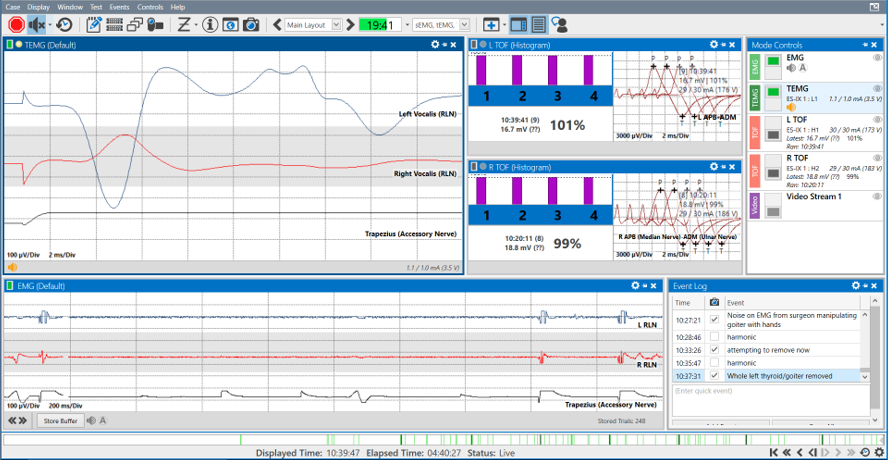 Direct Nerve Stimulation - Post-Resection
Intraoperative neuromonitoring is considered an invaluable tool to surgeons like Dr. Prasertvit, especially in procedures where nervous system structures are at risk. Providing the highest quality patient care is a common goal we have with the surgeon, making patient safety the utmost priority.